Do you feel overwhelmed on Instagram and stressed out by finding clients – or better yet, let them find you? Well, then you definitely aren't alone! Many small businesses struggle with making their social media marketing effective.
And yet, they know that it's possible to win their dream clients over on Instagram. Many of their competitors are doing it and you're probably asking yourself: How can I also get (more) clients from Instagram?
We started on Instagram at the exactly same point…
But in a recent survey, 36.5% of our members said they found us on Instagram. I was really suprised by this number, because it wasn't always that way.
The truth is, we were struggling to sell on Instagram, to promote our offers and in the beginning we had no idea how to reach more customers or get the right followers for our business.
Today, everything has changed:
We get new members for our Template Membership from Instagram all the time.
Our members and customers have gotten incredible results on Instagram with our templates and strategies.
Many of our members went full-time with their businesses, they left their 9-5 jobs, they reach 100,000s of people with their content and impact hundreds of lives everyday.
With the help of Instagram, we have built a thriving online business – almost 100% organic, without spending a fortune on ads.
So, I'd say that we know a thing or two about how to come up with Instagram content that brings in new clients.
If your business does struggle with this right now, if you're searching for clients on Instagram and don't know where your next client is coming from, this guide is for you.
10 Proven Ways to Reach more Clients on Instagram for your Online Business
We go over ten non-fussy action steps to set up an Instagram strategy that grows your business and brings you more leads, sales and clients.
Attention! In this guide, I'm not going to bore you with generic advice like "Set up a business profile" or "Post consistently". Because you probably already know that.
I guess you're here because you've done all that and read all the tips and tricks posts and still don't generate enough revenue for your business.
Instead, I'm going to show you what it really takes to build a sustainable business on Instagram and get a reliable stream of (potential) clients coming your way.
It doesn't matter if you want to get clients as a virtual assistant, as a social manager, a graphic or web designer, photographer or are looking for more marketing, copywriting or coaching clients. The action steps are suitable for any kind of online business!
A word of caution: We don't focus on the numbers. Depending on your business model, you don't need to reach 100k or even 10k people on Instagram to build a business. We focus on Instagram as an engagement tool and building an engaged audience that is connected to you. This way you can start getting clients on Instagram, even if you only have a small following.
1. Focus on your Target Audience and Find Ideal Clients on Instagram
It's the 101 of marketing and so it's also the first item on this list: Make sure you know who you're targeting and that your target audience is actually on Instagram.
It sounds very obvious, but many people miss this step and think they need to be on Instagram with their business, just because everybody else is. Later, it turns out their marketing isn't working, because their ideal client isn't where they try to reach them.
So, to get an audience on Instagram, the first thing you need to get clarity around is:
Who is your target audience and your ideal client?
Does this client actually hang on Instagram? How much time do they spend there? Is a different platform maybe better to reach them?
Sometimes just a part of your target audience is on Instagram. Find out which part that is (for us it's brands who need help with their Instagram marketing) and how they are different from other parts of your target audience.
Only if you are 100% sure that the client you want to reach is spending enough time on Instagram, you're ready to move on to the next step.
2. Find your USP and stand out
Just like with a good product, you need to find a way that makes your Instagram marketing unique.
Instagram has become incredibly competitive. The days where you could grow on Instagram simply by being there and posting generic advice are long gone.
To build a community of people who are curious to learn more from you, you need to find your USP – your unique sauce.
It has become harder to stand out and capture peoples' attention long enough to convince them it's worth following your content. But definitely not impossible!
Here are some suggestions:
If you're a personal brand, don't be afraid to be authentically yourself. Don't copy someone else's personality or pretend being somebody you're not. This is the easiest way to stand out, since there is nobody out there who is exactly like you.
To spin this further, you could make extra creative and personal stories. Show your daily business life in a way that is uniquely you.
Film Reels that put your story, your service or product in a totally different angle.
Create posts that people haven't seen before in your niche. Get inspired by other industries and see which ideas you can adapt for your content.
Stand out not just with your content and message, but also with your branding, your content design and formats.
Most importantly: Don't try to fit in and copy what everyone else is doing. You have an unique story to tell, so don't be afraid to go out with it.
Want an example?
Our Canva templates are super fun, bold and colorful – while most other Canva templates on the market feature earthy, beige and neutral tones.
Guess what? We have sold more than 12,000 template packs to date, which makes us one of the biggest players in the template market. Even though from first glance it looked like all people were just searching for beige designs.
The learning is: People will recognize you when you dare to be different. They will want to hear what you have to say and will remember you. Your message won't be for everybody, but that's not the goal.
3. Optimize your Instagram profile and bio
Now that you know what you want to stand for, it's time to dive into your Instagram profile. It's one of the first things new potential followers see from you. In a few second they decide if it's worth following or not.
You can't overestimate the importance of having a profile that clearly communicates your USP.
Write a bio that makes people understand what you stand for and why they need to buy from you or work with you. Your bio's title (not your username) is searchable on Instagram, so make sure you add keywords to it. Then use two lines to address what you're offering, what you post about, what's your unique benefit and for whom.
Example:
Eat healthy and finally feel good in your body
Intuitive Eating for Beginners
or
Business Coaching for Ambitious Moms
Learn to build a business around your kids
The last line in your bio is reserved for a call-to-action. This way you can direct new profile visitors to your link in bio page, a free offer or your website.
4. Give your Instagram Feed a Makeover
Your profile optimization doesn't stop with your bio, obviously. The largest part is your feed, which is the perfect playground to capture your brand, your message and your unique sauce.
How do you know if your feed is doing okay with converting profile visitors into followers or if it's in need of a makeover? Here's an easy formula to find it out:
Go to your insights, tap on Accounts reached and scroll all the way down to find the number of Profile Visits.
Now go to Total Followers and see how many Follows you got in the same timeframe.
You can evaluate these numbers for the last 7, 14 or 30 days.
To measure your profile conversion rate, calculate Follows / Profile Visitors * 100.
Now, what's a good conversion rate from profile visitor to follower? Here are a few benchmarks to determine how your profile is doing:
<15% – Needs optimization
15-30% – Good
30%+ – Awesome!
If you find out your feed could use an optimization, read on.
5. Create Reels and Carousels
This is the 2023 tip on the list. Instagram is pushing Reels (but not so much as the past years) and carousels are becoming increasingly popular again with the algorithm. If you want to gain visibility fast on Instagram these day, Reels and carousels are your best bet.
Reels are great for short a-ha moments, myths, real talk or actionable tips. In summary, make it short and entertaining, convey an emotion.
Don't forget to try out trending audio to juice out more reach. Or go with original audio Reels to strengthen your personal brand.
Tip: If you're not into dancing and pointing, check our Reels Guide and find out how to create reels in Canva, without showing your face!
Carousels are an amazing longform content format. Use them to tell a story or make an educational post with valueable tips.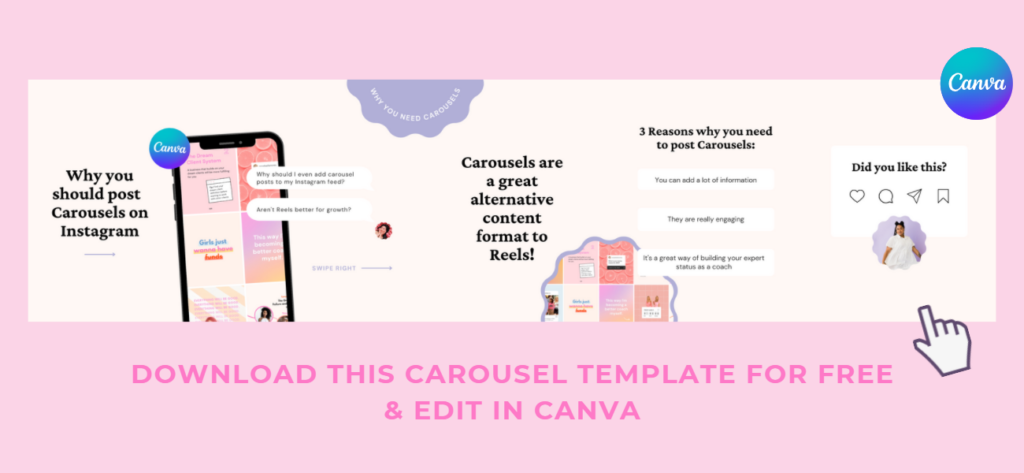 Especially if you observe that many of your competitors are using shortform content it could be worth a shot trying to establish a content format that stands out – remember strategy no. 2?
Related Post: How to Create Seamless Carousels in Canva
6. Build Relationships
This goes hand in hand with what Instagram is all about! Building an engaged and active community and also being active in other communities (many people tend to forget that part).
Actually engage with people who you think could become a client. It doesn't mean you should spend hours every day engaging or send them cold DMs pitching your offer. I usually take 30 minutes at the end of my work day, scroll through Instagram and genuinely engage with people whose interest I want to foster.
You don't get followers on Instagram without following anyone. If you want to get clients and followers (without buying them), you need to put in some work first.
But don't expect these potential customers to follow you or even turn into clients right away. Building clientele, relationships and networks takes time, but usually also pays off. Even if they don't become clients, they could be potential business friends, mentors or collaboration partners!
Then, find a way to get in touch with your followers. You can use stickers in your stories to get feedback from them, use engagement-boosting posts, write them a DM or react to their stories.
More ways to build active relationships in your community are:
Post regular stories of yourself where you share your daily life to build a connection to your follower's lives
Share user-generated content or feedback from clients or followers in your stories and posts
Keep the conversation going especially with those followers who fit your 'ideal client' avatar.
7. Start a Client Spreadsheet and Reach out to Clients
You can take this one step further by starting a spreadsheet where you keep track of relationships with potential clients.
Then you can approach these clients and engage with them in different stages (cold, warm and hot leads) via DMs or comments.
Keep youself top of mind for these people, but don't be pushy. When they need what you sell, they'll think of you.
Related Post: How to Build an Audience according to 10 Instagram Experts
8. Get Instagram Followers on your Email List
More important than keeping track of leads is having a way to contact them elsewhere.
Instagram is a great platform to gain visbility, build brand awareness and reach your potential clients in an early stage of their journey.
But now, think the client journey further. Where do they go next, when they need more information / more value or are ready to spend money?
Ideally, you have an email list where you can contact your followers, also off Instagram:
Put the link to your website in your bio.
Set up a newsletter list.
Add a lead magnet to your bio page to collect email addresses.
Then reach out to your subscribers regularly via email.
When you see Instagram as a marketing tool that can perfectly be extended with an email list, you'll gain clients faster and without being online the entire day.
9. Share Client Case Studies and Testimonials
Once you've got your first clients and have results to show for, use them!
Don't be shy to talk about the results your clients get from working with you or using your products (if approved by the client, of course).
To buy from you, people need inspiration, trust and reassurance that they're making the right choice. Seeing how others have trusted you and gained what your ideal client wants is one of the strongest types of proof content you can share.
10. Be patient and keep going
This is probably the hardest thing on this entire list. At least is was for me!
Your success will most likely not come over night. Also not on Instagram.
People don't want to hear it, but it's the truth: Just like with everything else it takes consistent effort to build something. Nothing different on Instagram.
But if you follow through and don't give up when results don't come immediately? Then you will eventually build a community of people who are genuinely interested in your offers and don't just follow you because your Reels are funny.
These are the people that will turn into clients for your small business.
You've got this!