Can you still be successful on Instagram, if you only start? Is it still possible to build a community and a following these days?
I mean, there is one thing you try to do when you start an Instagram account, right?
You are there to find like-minded people you can connect with, people you can inspire with your content, and – if you are a business owner – people you can wow with your products, so they become happy clients and customers.
If you are on Instagram as a brand and don't know how to find these people – your audience – and turn them into followers, then this blog post is for you.
In this article, we asked 8 Instagram experts to have their say about:
How to build an audience completely from scratch and grow it into a community
How to gain followers who are really interested in your brand and what you sell
How to not get lost in the "must-follow tips and tricks" and find your own unique strategy to build an engaged audience
How These 8 Online Entrepreneurs Built Their Audiences on Instagram
While I love going in-depth for you and write "big guide" blog posts, in this article I wanted to directly jump to the real experts in this matter: Online business owners who are successfully selling their services, coachings and digital products with the help of their Instagram communities.
They have a combined audience of over 100k followers, so they definitely know what they are talking about.
We asked 8 top Instagram experts, business owners, social media managers and creators: How did you build an audience and what is your No. 1 tip to get started?
Here is what they say 👇
Nadine Burton, Social Media Marketing Expert
Follow Nadine on Instagram @mrsnadineburton
"I started creating a lot of consistent content – the most important stuff in the beginning was to post everyday. Obviously there were days were I was not inspired or felt not so motivated so I learned to create content in bulk to have content ready to post without an any exception. Being consistent is key! Funny enough I'm just now restarting my TikTok and Youtube Channel and I'm following the same mantra – posting everyday.
The other key ingredient to build an audience is having a strategy. Posting without a strategy will dilute and hinder you in building an audience. Give your audience value content that is in line with their pain points so they keep being engaged with what you post and your account. Once you have established that you can start feed your audience new type of content to strenghten the bond."
Key Takeaways:
When you just start out, post consistenly (i.e. every day)
Have a strategy in place and focus on content that helps your audience with their pain points
"If you want to grow your audience, you have to take care of the one you have. Even if it's only 2 people, you need to show up for those 2 people as if it were 2,000. That means engaging with their content, posting consistently on yours, asking what they want to see more of, and acting like you care.
One thing I did specifically (and still try to do sometimes) was send a video DM to every new follower just saying hello and pointing out something I saw on their profile that we had it common. It made me more relatable and when people feel connected to you and taken care of, they show up more for you, engage, and share your content, and that just leads to more new followers for you!"
Key Takeaways:
Engage with the audience you have, even if it's tiny and ask them what content they would like to see
Connect with ideal followers, for example by using video DMs
Alyssa Moorhead, Lead Generation Expert and Speaker
Follow Alyssa on Instagram @nerveclientstudio
"Instagram content and lead generation go together like PB & J, so make authentic content that sells for you, and then DON'T FORGET the lead generation! I launched my business the year Instagram stories started (2017) which made building an audience who can't wait to buy from me SO fun. I started with a super simple marketing plan – a list of topics my audience wanted to hear about, jumping on IG stories (on video) to talk about them, then engaging back with those who watched or interacted – as well as engaging via others' stories!
My most important lesson learned was to not just make content – make content AND sales content, that authentically and ethically sells for you! When I stopped making just educational, entertaining, and personal content and added sales content to the mix, I got DM's from hot leads pouring in.
And lastly, don't turn potential leads on Instagram into monsters – keep it simple:
Add at least 1 Instagram video feature to your content plan (reels, IG lives, IG stories)
Commit to making video content a few times a week (including sales content too!)
Start 2-3 new conversations each day from your own content + content of others you like"
Key Takeaways:
Authentic video content can be key to reaching your ideal audience who is ready to buy from you
With all audience building, don't forget to start selling if you want to build a business on Instagram
"My tip is to try lots of different things and don't get stuck in a rut of posting the same thing month after month. You need to constantly research what is trending and try something new if you want to see a big jump in your followers."
Key Takeaways:
Experiment and try out as many different types of content as possible
Research trends and show your followers something new
Try out the expert tips now and start with our set of 9 FREE Instagram Templates 👇
Gina DeFord, Founder of Babecrafted
Follow Gina & Babecrafted on Instagram @babecrafted or over on her website
"One thing that helped me build an audience on Instagram is creating lots of collaborative content. I run a membership for women business owners and often work with my members on content that we're both sharing to our feeds and Stories so we can maximize our reach. Some tips of content we collab on includes IG Live, blogs, and events. It's important to work with others and not end up on an island by yourself! This way you'll feel more supported and won't feel like you're on an endless content hamster wheel.
For someone just starting out, the best strategy I can recommend is to talk to your followers. Reach out to new followers in their DMs and create polls in your Stories. Respond to the people who engage with your polls and content! Social Media is a conversation starter, so go stir up some goodness! You've got this."
Key Takeaways:
Create collaborative content, so you don't feel like you have to do it all alone
Talk to your followers, create polls and respond to people to start conversations
Dr Yvonne Burkart, Low Tox & Toxicity Expert
Follow Yvonne on Instagram @dryvonneburkart
"I built my audience by posting what I felt would help my audience, specifically the version of me before I overcame my health issues. My main goal is to spread awareness and education about toxic chemicals. I don't have a "strategy" other than following my intuition and posting what feels right in the moment and addressing questions I see popping up.
I double down on what each platform is pushing at the time and try to use them in creative ways while keeping everything fun, lighthearted and entertaining.
If I were just starting out, I would write down the big problems I want to address & help my audience with, and definitely use templates to take away the frustration of trying to design on my own."
Key Takeaways:
Double down on current trends, but make them your own
Focus on the problems your audience has and address them in your content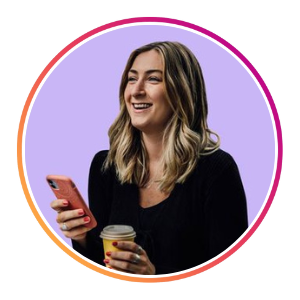 Elle Money, Instagram Marketing Expert
Follow Elle on Instagram @elle.social
"How I built an audience on Instagram? By showing up consistently and being authentically me. My intentions for the first year was to simply share what I know and give as much value as possible. I think people really resonated with that, and it made them want to follow me and stick around.
Don't compare yourself to others. It's so easy to look at the big players in your industry (and anyone else doing what you do for that matter) and wish you had what they have. What separates you from them is you. No one has had the same experiences as you. No one has the exact same views as you. So show that! Be your own competition and work on being a better version of yourself.
Don't compare the start of your journey to the middle of someone else's. This is your time to experiment – see who you want to attract with your content and ideas, see what kind of content you like to create, and allow yourself the space to play around and test."
Key Takeaways:
Set an intention for what you want to share with your audience (and why!)
Instead of comparing yourself to others, be mindful of yourself and experiment to find out what kind of content you and your audience likes
"Consistency is key!!! Instagram is a platform full of possibilities for me. However, you have to take advantage of them. In my opinion, it becomes very difficult (especially nowadays) on Instagram, or rather almost impossible, to grow and build an engaged following if you don't show any engagement yourself. So my strategy is: Get to know your target audience really well, create content several times a week (there should be something on your channel every day!) that addresses their challenges and goals, and be social, which means interact with your community!
Instagram isn't about the perfect feed or the most elaborate designs – It's about personality, connections with real people and closeness. We all get to show that more!
And when you're just starting out, take it one step at a time. First get to know your target audience, then build a profile with relevant content and start selling as early as possible (if you want to sell on Instagram). Also: find out what trends are working on Instagram right now and go with them. If you don't want to do that, then Instagram is not your platform."
Key Takeaways:
Create content consistently, so you've always got something your audience can come back to on your profile
Show engagement and be social – Instagram is about connections and getting to know your target audience well
To sump it up – Yes, building an engaged audience isn't as easy on Instagram anymore, but as our experts show, it's still possible!
With all of these tips, you should be well equipped to create a content strategy and start building your ideal audience on Instagram.
Posting consistently gets easier when you've got access to 2,000+ ready-to-use templates!
Let us know if you liked this format of asking the experts and which questions you have for them in the comments below.