Today I've got a top tip for all those of you who feel overwhelmed with Instagram. With posting multiple times per week, the never-ending content creating and the doomscrolling…
Sometimes it's just so exhausting 🥵
So, are you ready for my favorite lazy girl Instagram trick? 💅
👉 Introducing: The 9 Grid Instagram Feed Layout
The 9 grid is a concept made popular by Kristen Achziger from Going Ultraviolet – and for me it's one of the most genius ways to create a solid Instagram grid.
Kristen even used our Engagement Power Puzzle to create her original grid!
So, what's the idea behind the 9 grid?
→ You create 9 single posts (or carousels) that sit on top of your profile + act like a sales page, about page and homepage all in one!
A 9 Grid Instagram feed has multiple benefits:
You don't have to create content all the time, but still get to have an Instagram presence that hooks your audience
New profile visitors get the round-up about your brand in 9 strategic posts that are designed to attract just the right followers
Use the 9 grid for special occasions like launches and sales to tell a story through 9 connected posts
How to create a 9 Grid feed in Canva?
Are you hooked now about saving time and nerves with a simple 9 grid feed? Then let's see how you can easily create one yourself in Canva.
Tip: Want to skip the design process and just get strategic 9 Grid templates, done for you? Join the Template Membership were we've just launched a 9 Grid Instagram Pack with 3 different grids for all types of online businesses!
1. Create a new design in the size of 3240 x 3240px
We'll create this 9 Grid as one big design that will later be cut into 9 single posts. This way you'll always see how your posts look together and it's easier to create a cohesive style!
First of all, create a new design in Canva and set the size to 3240 x 3240px.
2. Set Guides to create a 3×3 grid
Now, we'll enable Canva's rulers and guides by clicking on File > View settings > Show rulers and guides.
Drag two rulers in from the left and two from the top. Set them to 1080px and 2160px each.
Tip: If you can't seem to get them to the exact px value, zoom into your design a bit and try again.
Now you've got a 3×3 grid you can follow to design your content!
3. Design your 9 Grid feed layout
It's time to get creative – and strategic! Think about the goal your 9 grid needs to achieve and fill your empty grid with 9 posts.
Pay attention to where the guides divide the posts – if you want to create more of a puzzle look, you can also add overlapping elements that will create a seamless design in the final feed.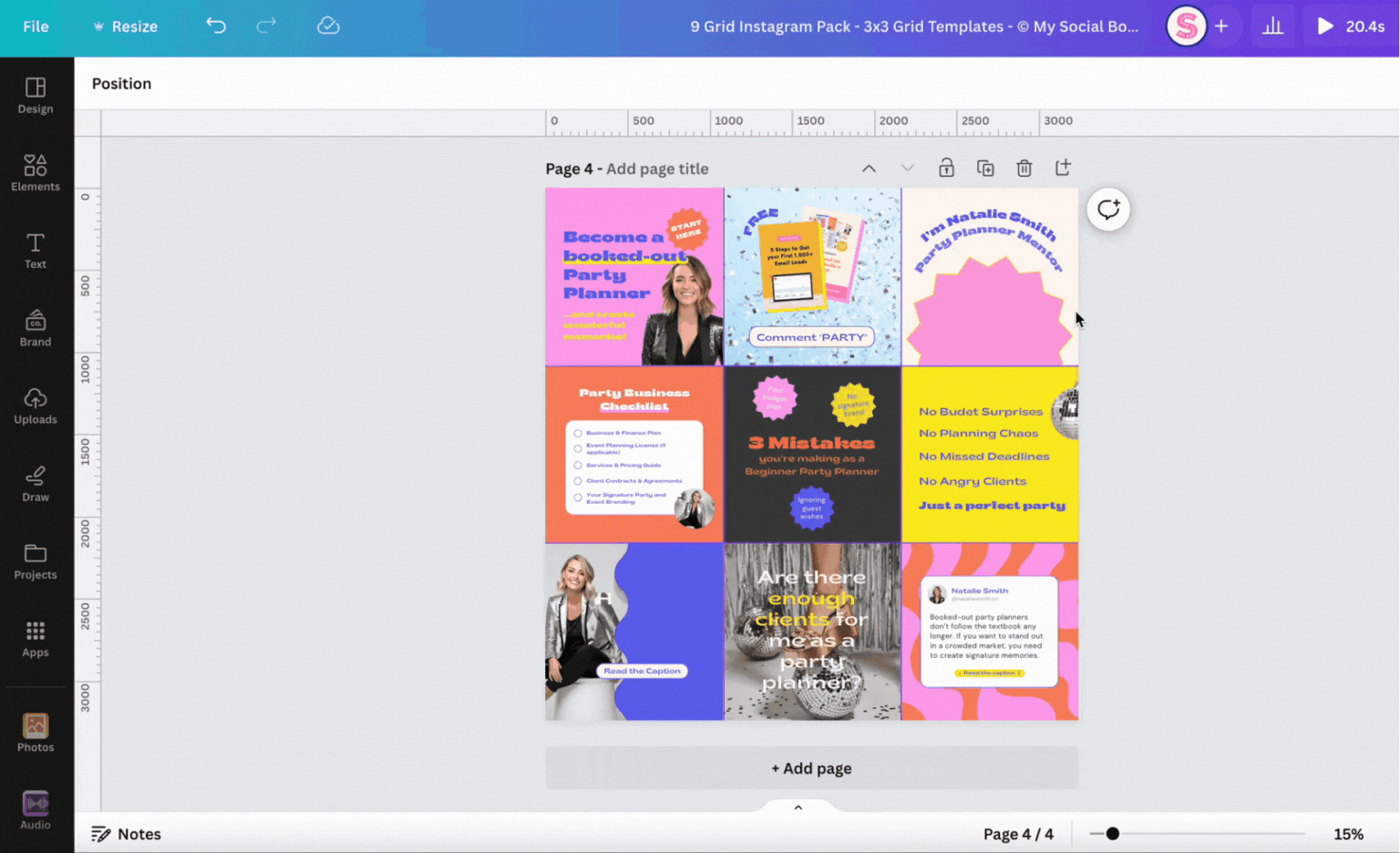 Tip: Find my favorite 3 use cases with content suggestions below!
4. Cut your 9 Grid in single posts
Now you only need to download your design and cut it into single posts.
We've got a handy free tool called the Grid Maker which has been created exactly for this purpose!
Go to the Grid Maker, upload your design and select 3 Columns and Image Cut: Grid.
Optional Tip: Instead of just creating 9 single posts, you could also design additional carousel pages or even turn some of them into Reels covers!
3 Types of 9 Grid Feed Layouts you need to know
Are you ready to design a 9 grid, but don't know which posts to include? I've collected 3 use cases where a 9 grid is the perfect solution.
Let's see which posts should be included and how to structure a successful 9 grid feed 👇
The Launch 9 Grid Feed
A launch is the perfect phase to test a 9 grid layout and see if it's for you. The 9 connected posts will tell a story about your new offer and invite your audience to learn about it and make a purchase decision.
Posts to include in the Launch 9 Grid:
Introduce your offer + countdown
Talk about the goal / problem your offer solves
Cover objections
Use empowering memes
Correct common misconceptions
The Podcast 9 Grid Feed
Do you host a podcast, but you're running out of ideas what to post on Instagram to reach new listeners? Then a 9 grid may be just the right option to keep work on a second page to a minimum, but still create impactful content!
Posts to include in the Podcast 9 Grid:
Introduce the host
Highlight latest interviews or your listeners favorite episodes
Podcast reviews
Quotes from recent episodes
Funny memes to introduce what your podcast is about
The Instagram Landing Page 9 Grid Feed
This one is perfect if you're starting a new Instagram page from scratch, have gone through a rebranding or just want to take a break from posting all the time.
The 9 posts in this grid act like a landing page that introduce new visitors to your brand, build trust and promote your freebie or signature offer.
Posts to include in the Landing Page 9 Grid:
Introduce yourself / your team
Educational content about your topic like checklists, How tos
Talk about common mistakes your audience makes
Address the No. 1 goal your ideal client has
Positioning statements and opinions
Get the 9 Grid Canva templates in the Template Membership (starting from $50!)
And guess what?!
👉 3 different 9 Grid templates are now available exclusively in the Template Membership!
Download your 9 grid templates, plus 2,500+ templates at your fingertips, content guides and our monthly new drops 👇👇👇