Do you run out of ideas what to post on your Instagram stories? Or do you not really have an idea what to share to boost your business?
I've been there countless times.
That's why I've put together a unique list of things that always work on Instagram stories for your brand (and mine).
If you feel stuck on Instagram, stories can help re-connect with your audience, build an engaged community and get more followers who are interested in your brand.
Posting a story can be your first step to growing a loyal community and start selling more.
So let's dive into the 50+ best Instagram story ideas for your small business.
Why Instagram Stories are important for your Business
Do you know how many stories are posted on Instagram per day?
→ More than 400 million.
And countless of them are from businesses like you who want to reach their audience, build trust and turn them into clients eventually.
There is a simple reason why stories are so good for your business: An Instagram story is the perfect way to build a raw, authentic connection with your followers.
A connection that is unique to you and will set your business apart from all the others.
Instagram is the perfect social media platform to connect with potential clients and stories are the cherry on top when it comes to building a loyal community.
Stories have been introduced by Instagram years ago and have become somewhat of a standard in the social media app.
In the meantime, shiny new features like reels have been popping up. They are an amazing tool to grow your business on IG, but they shouldn't be the reason to neglect your stories.
Can Instagram Stories increase Engagement?
When I see people asking if stories do really help with engagement – they answer is clearly yes!
There isn't a better way to interactively communicate with your followers than on stories. Video and storytelling are two powerful ways to engage your followers and bind them to your brand.
The Instagram algorithm will evaluate the engagement on your stories which can be beneficial for your account as a whole.
If the algorithm sees that people are watching your stories to the last slide, interact with stickers or message you, it will consider your content valuable for your community.
This can have a positive impact on your overall ranking in the algorithm.
So, if you want to improve your engagement, it's a good idea to dive into your story strategy now.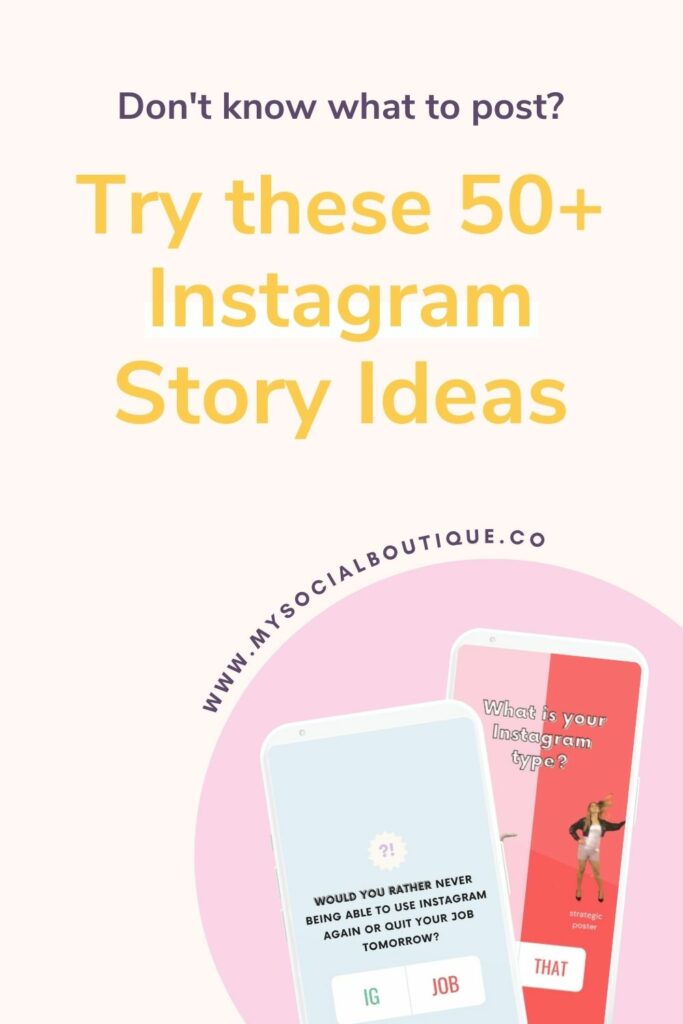 Stories vs Posts – Which one is better to grow my Business Instagram account?
First of all, there is not a true or false in this case. Both posts in your feed and stories can help when building an Instagram brand for your business.
In fact, in the past years, Instagram introduced even more formats like Reels and IGTV.
And all of them should be present in your businesses Instagram strategy.
So, there is not a one-size-fits all answer to whether your business is better off with using stories vs feed posts.
The best way to find out which type of content your followers want to see is to try things out.
That's why I've put together the following list with more than 50 creative and engaging story prompts and ideas.
Hopefully, you can source inspiration from it and find new ideas for whenever you have no clue what to post on stories!
Instagram Story Ideas to Boost your Engagement
Your business will only be successful on Instagram if people interact with it. The famous engagement rate is often even ranked higher than the follower number.
The reason is that engaged followers are much more likely to buy from you and become loyal, repeat customers.
Luckily, Instagram stories are the perfect tool to engage your community and turn those who haven't really interacted with your content before into engaged fans.
How does that work? Here a few simple ideas for engaging IG stories:
1. Share helpful tips in a mini training
2. Shoutout a client
3. Introduce yourself and your role in the business
4. Share the vision and the "Why" behind what you do
5. Share a checklist that your followers can easily repost
6. Tell a story over multiple slides: Talk about your struggles, share what you wish you knew when you started, talk about what you don't like in your niche
7. Share a video story of your business routines
8. Add an extra "Swipe up" or CTA story for products or offers
9. Get controversial and bust a common myth in your niche
10. Host a giveaway and encourage people to share on their stories
11. Share a new post from your feed or a Reel
Tip: To engage people to actually click on the post, use the drawing tool to hide important parts and create the urge to tap to find out more
Like these story ideas to increase engagement? Get our Engagement Booster Template Bundle with more than 320 ready-to-use templates and even more amazing ideas for posts, reels and stories:
Create an Interactive IG Story with these Stickers Ideas
Over the years, Instagram introduced more and more different stickers you can use in your stories.
Stickers are perfect to promote interaction with your followers, encourage them to learn more about you and also get to know them better!
Here are a few cool suggestions how to use stickers for interactive Instagram stories:
11. Announce a freebie or a free challenge with the Countdown sticker
12. Instagram Quiz idea: Test your community's knowledge about a topic from your niche with the Quiz sticker

Example story quiz questions could be:
– Which of the following <things from your niche> do you like best?
– What's your favorite <routine or habit>?
– Can you guess: What's the most popular <thing from your niche> according to <publication from your niche>?
– What is the correct way to <process from your niche>?
13. Use the Question sticker to start a Q&A
This is the perfect way to introduce yourself, share some personal facts and build a connection
14. Ask a 'Would you rather' question with the Poll Sticker
15. Ask a "This or That" question with the Poll Sticker
15. Announce a new service or product opening and encourage your followers to DM you about it with the Message me sticker
16. Collect subscriber emails for your email list with the Question sticker
This is one of my favorite question sticker hacks!
17. Use the Emoji Slider sticker to let your audience rate sneak peeks of a new offer
18. Play a "Find the word" game with the Question Sticker.
→ More innovative ideas for the question sticker can you find down below.
19. Shoutout a fellow business with the Support small business Sticker
20. Announce an IG Live with the Countdown Sticker
Let's play: Fun Things to put on your Instagram Story
Your business on Instagram is not just there to talk about your products. Nobody is interested in the always same promotions.
To switch things up, why not bring a bit of fun into your stories?
An Instagram story is perfect to play a game with your followers, share a meme you think is super accurate when it comes to your niche or get creative with funny GIFs.
21. Share a This or That template
22. Play "Answer in Emojis"
23. Share a fun personality type game
24. Play bingo with your followers
25. Ask a question to create a fun, interactive story and let your followers answer with a GIF
26. Post a meme you know your audience will relate to
27. Repost a fun, relatable tweet
28. Play a "Tag someone who" game to get reposts and a bit of extra attention
Want more fun story ideas? Try our IG Story Games Pack:
Question Ideas for Instagram Stories
People always want to feel seen and acknowledged. Nothing different with your Instagram followers.
If you can give them a feeling of importance and show them their opinion is important to you, they will perceive your business as more than just a brand trying to sell them something.
It's the much talked about connection you want to spark with them.
The easiest way to build this connection is by asking a question on your stories.
29. Ask for feedback
30. Start an 'Ask me anything' round and post your answers with the Answers sticker
31. Ask a personal question your followers can easily answer
32. Ask what they want to see next from you
Use the quiz sticker for this, adding that there is no wrong answer or the free text question sticker
33. Ask which struggles/problems do they have in your niche or related to your business topic?
34. Repost a post from your feed that asks a question in the caption
35. Pre-test products, ask how they would like it
Ideas to use IG Stories for your Marketing & Sales
You can't just tell business stories, you can also sell over your Instastory. Even better than with some other formats on social media!
In the end, coummunity and connection are great and important for your brand. But it doesn't help if you don't sell anything, right?
So apart from connecting, engaging and asking questions, your Instagram story is perfect to put the spotlight on your offer.
Here are a few IG story ideas to push your business, market your offer and sell on your stories:
36. Use storytelling in your launch campaign with personal videos
37. Make a product story: Show a How To of your product or a peak into your process
38. Test drive your ads to see which ones may be a good candidate for a paid promotion
39. Sell your offer by talking about missconceptions
40. Talk about the pain points of your audience
41. Create an urge to buy with a limited sale (you can perfectly use the Countdown sticker for this!)
42. Show business events you attend or business travels for a different perspective
43. Reach more people outside of your audience or give your own community new inspiration with an IG takeover
These are just a few Instagram story marketing and promotion ideas, but they should help bring your business forward and hopefully increase your sales.
Cool 5-Minute Story Ideas when you don't know what to post
The previous ideas on the list should already have given you loads inspiration what to post on your stories to boost your business.
But what if you need a quick idea and have absolutely no clue what to share?
Here are a few of my favorite backup story ideas that are quick and easy, done in five minutes and work all the time:
44. Post a BTS (behind the scenes) insight of your typical business activities
45. Share a quote from a thought leader in your niche
46. Share a reminder with a cool graphic style
47. Share a tweet
48. Post a quick selfie
49. Create a weekday story feature like "Tips Tuesday", "Motivation Monday" or "Self Care Sunday". This is a great way to post daily without thinking about new story ideas all the time
50. Repost a feed post or a reel from an account in your niche
51. Share an inspirational image or meme
Instagram Story Design Inspiration and Layout Ideas for an aesthetic and cohesive Branding
There is probably one thing that is just equally as important for your stories as a business than the right ideas. And that is branding!
You want your audience to recognize your story in a snap when they are tapping through.
Here is how you can achieve a trendy but consistent branding when using the content ideas above to create an Instagram story:
A good idea is to use the collage feature of Instagram to add multiple photos in one story. You don't need any extra app for that anymore!

Create a series of stories in the same branding (this is great for a selling story arc: Share a personal problem/struggle – explain how your offer helped you – share your offer)

Pick your brand font and a brand color to make text on your stories cohesive

Create your own branded GIF and upload to Giphy or pick a few GIFs that match your brand
→ Popular keywords to search for on the Instagram story GIF feature: Lettering white, Kindcomments, Hellobigidea

Use Canva templates to design cool IG stories with less effort
I hope this list gave you a good inspo and interesting editing ideas for your next Instagram story.
Start creating and don't forget to check your insights to find out which ideas are working.
Frequently Askes Questions: How do Instagram Stories work?
Which Apps can you use for IG stories?
You can either create your Instagram stories directly inside the IG app. Or you can use a third-party app.
There are plenty of apps for story editing – I can recommend Story Edit or Canva.
Make sure you check our Canva Instagram Templates for more creative story ideas!
Video Specs: What's the correct Instagram Stories video size?
To upload videos or graphics to stories, the correct size is 1080 x 1920px.
Can I download Instagram stories and highlights?
Yes, you can easily download your own stories from the Instagram app.
When you create a new story, tap on the arrow download icon in the upper corner. This saves the image or video story directly to your phone.
Need more Ideas for your Instagram?
We've got you! We packed a bundle of 9 Instagram Post Templates – with content ideas for businesses baked in! You can download the free templates for Canva here.