Imagine this: You've created a new Instagram post, spent an hour to find the perfect image to go with it, you poured your heart into the caption and researched the perfect hashtags. Filled with anticipation, you hit the publish button and wait for the reactions of your community.
But nothing happens. After an hour, you've got a few likes and one spam comment.
Disappointed, you can't help but wonder: "What am I doing wrong here? This post was so good!"
The reality on Instagram is that most businesses know they need to build an engaged community to make sales – but they don't know why their followers don't engage.
If you're one of them, you're in the right place!
In this post, I'll go over the 3 mistakes most business owners make on Instagram that lead to low engagement rates. So you can figure out what's blocking you from floods of comments and likes, and fix your engagement once and for all!
Mistake no. 1: Your content is all about your offers
One major mistake I see many businesses on Instagram make is bombarding their followers with sales pitches. Sure, you're a business and you have something to sell – and it's important to showcase your products or services. But in the end, people only care about what's in it for them.
Your followers are craving content that actually means something to them, something valuable and relatable. If you understand this, you've already got one of the major things right!
Try to strike a balance between promotional and non-promotional content, such as entertaining, educational, and inspiring posts.
Remember, engagement works both ways. When you deliver value to your audience, it encourages them to interact with your content!
Mistake no. 2: Your visuals are not engaging
I don't know if it has to do with me being a designer, but this mistake is SO easy to fix. And still, so many business owners don't pay attention if their graphics are actually engaging.
Instagram is a visual-first platform – the graphic or video is the first thing people notice when they scroll over your posts. If the graphic doesn't engage them, they won't even bother reading your carefully planned caption.
There are thousands of ways to increase your post's engagement, simply by designing an interaction-worthy graphic.
See the example below – which of these two posts would you pay more attention to? Where would you leave a comment, which of them would you share to your stories?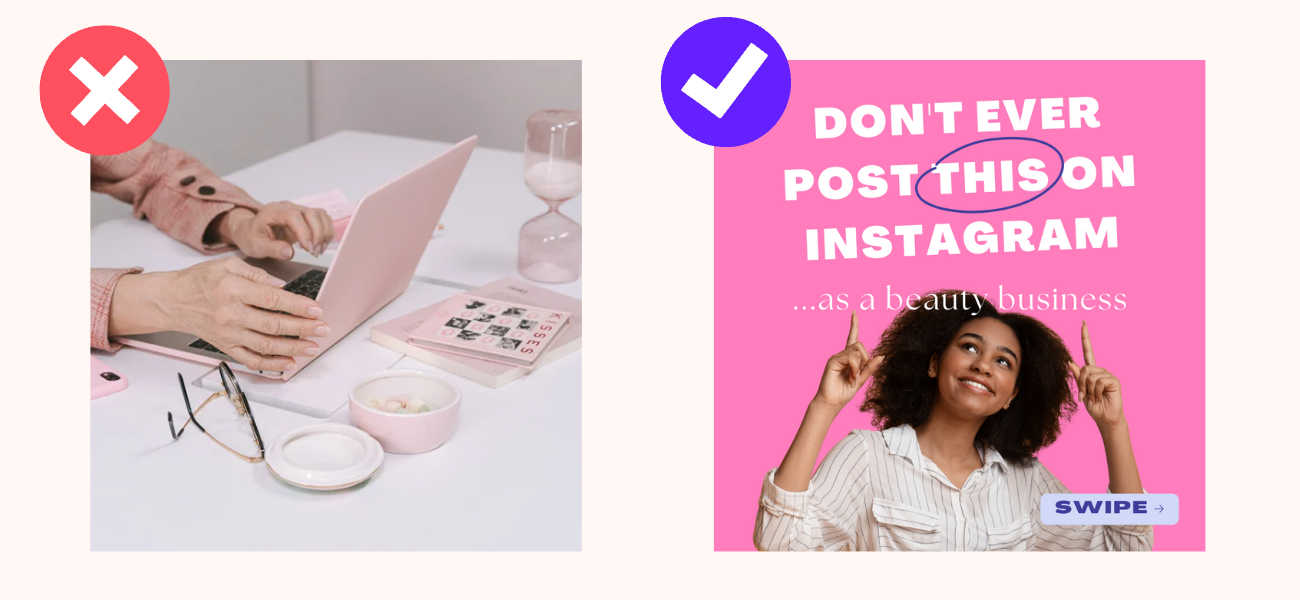 Mistake no. 3: You're not consistent
Consistency plays a big role with how successful you are on Instagram – also (and especially) when it comes to engagement!
While being consistent can mean different things, it ultimately leads to building trust and setting expectations. When your audience knows you'll post valuable content three times a week, they'll come back for more every time.
When they know you're sharing educational gold nuggets in your stories every monday, they'll look forward to starting the week with you.
In turn, only posting when you feel like it, will lead to lower engagement rates in your community.
So, now you've learned the 3 reasons why most businesses fail to build a highly engaged community through their content. But how do you fix those mistakes, so you can look forward to engagement spikes whenever you hit the publish button? 👇
Or take the shortcut and increase your engagement with our Engagement Boost Bundle: