In our last article we shared clever ideas for your educational content.
While educating your followers is an important step in getting their trust, you need to add content that focuses on sales, if you want to gain clients.
And that is often easier said then done.
When thinking of sales, many think of the sleazy car salesman or dubious network schemes.
But I can assure you one thing: Sales isn't about talking somebody into your product (even if they don't want it).
Selling on Instagram can be fun and feel good, when you've got sales-ready content.
10 Content Ideas to Sell your Offer Without Feeling Salesy
If you're ready to create sales-focused content that feels like you and makes selling easy, read on.
Here are our favorite ideas around selling your service or (digital) product on Instagram:
1. The Biggest Struggle
Ask your followers what their biggest struggle in regards to your topic is (you can use the story question sticker or the quiz sticker for this).
Then share how your offer helps with that in a post or story.
Examples:
What's the biggest hurdle of creating your own website?
What takes the most time for you on social media?
What's the No. 1 thing that keeps you from hiring your first team members?
Where are you stuck with building your funnel?
2. Before + After
Share one of your prior client's story to present the transformation of your offer
👉 How has your client's pain point changed since working with you? How can you show that on point with two "before + after" photos or graphics?
3. Time Wasted
One of the biggest drawbacks of DIY vs outsourcing to an expert or buying a product is time. Most likely, with your offer you're saving your clients a lot of their precious time.
Show how much time people usually spend DIYing and how you can speed up the process for them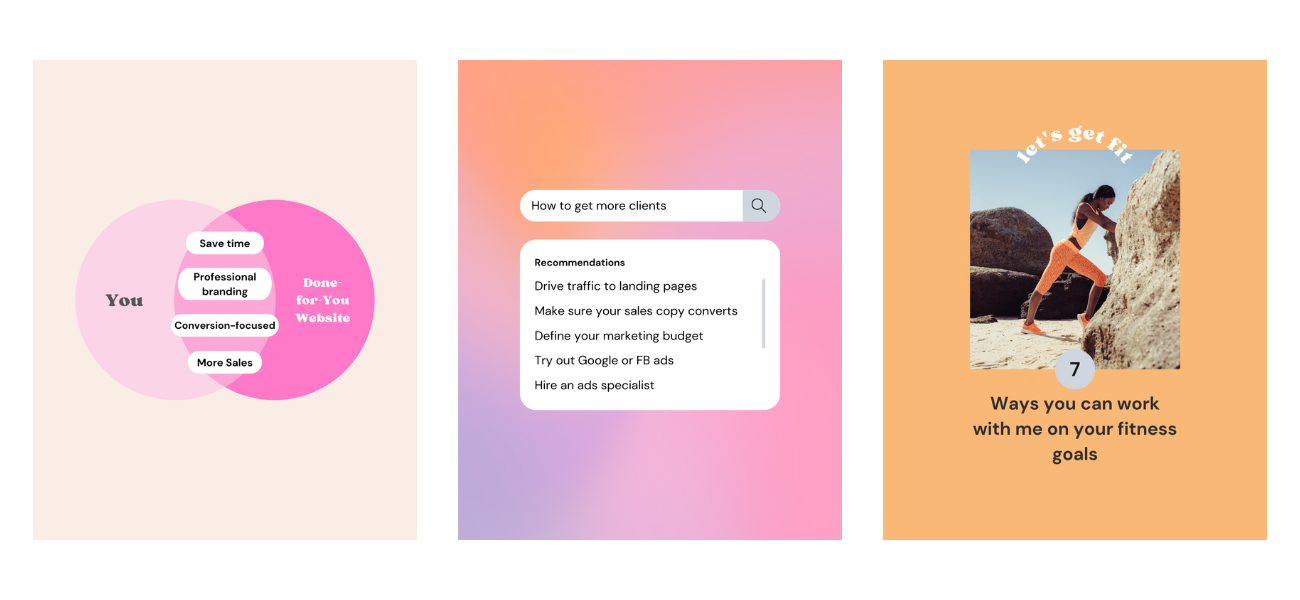 4. Who is it for?
This piece of content is meant to speak directly to your ideal client. It's to shows them that your service is exactly made for them.
List 4 things that characterize your ideal client and their situation before working with you
Example: This is perfect for you, if…
#1 – One of you client's struggles (If you're struggling with…)
#2 – The situation they are currently in (If you're stuck in…)
#3 – Another struggle / pain point (If you feel…)
#4 – The desired result / outcome (If you want to…)
5. Venn Diagram
Visualize how the two of you (you/your offer + your client) overlapping make the magic
👉 Use a story or post with a venn digram and put all the benefits and results of working with you in the overlapping part
6. Talk about your price
When you go out with your offer, many people will think "Sounds cool, but can I afford this?". Talking openly about your (starting) prices will help with that and show your ideal client that your service is in their price bucket.
Share the (starting) prices for your offers or packages, but always communicate the value before you do so!
7. The Mockup
Paint a picture in your client's head of what's included in your offer and what they will gain access to.
This type of content works amazingly for bundles, digital products or non-tangible offers like coaching and services.
Use a mockup (or images of your physical product) to visualize what people get when they buy from you.
8. Action Steps
This one is perfect for coaches and service-based businesses.
👉 Explain 4 steps that you'll go through in your offer to bring your client to the desired outcome.
9. Result Screenshots
Show the results your clients get with screenshots.
Example: The new website you built, your client's social media insights after working with you, screenshots from DMs or messages
10. Self-identify Questions
Ask 3 questions in your story (use stickers like poll, quiz, etc.) to make your client identify as someone who needs to buy your offer.
Then add your CTA (book a call, fill out a form, etc.) on the 4th slide.
→ Question that shows where they are wasting potential
→ Question that lets them realise they are your ideal client
→ Question to show them a struggle they might not have known until now
→ Question that reveals a surprising fact, directly connected to your client's struggles
Ready to sell your offer on Instagram, without feeling salesy?
Download our Sell your Service Templates for Instagram – and sell 1:1 coachings, digital services, retainer spots and even digital products with ease 👇