Canva has become the No. 1 design tool for many businesses – whether big or small. If you are already using it, you know why it's so popular.
It's easy to use, learn and understand, even if you don't have a design background.
What I love about Canva is that it empowers millions of small businesses to create their own graphics from scratch.
Without spending a lot of money on a professional graphic designer.
We are using Canva Pro in our own business several times every day – not just for our Canva templates, but also for marketing graphics, Instagram posts and all kinds of blog, newsletter and website graphics.
If you are currently on Canva's free plan and are unsure if the investment in Pro is worth it for your business or if you just want to know what exactly does Canva Pro give you, this review is for you.
The big question: Is Canva Pro worth it for a small business?
I'm using Canva Pro for all our templates and as a graphic designer I'm working with the design tool nearly every day.
That's why I thought it's about time to write an in-depth review for you!
This guide will give you an overview over the premium features, where the difference to the free version is, the pros and cons, how much Canva Pro actually costs, what to consider when upgrading and how to try it for free.
In the end, you will know if an upgrade to Canva Pro is worth it for your business!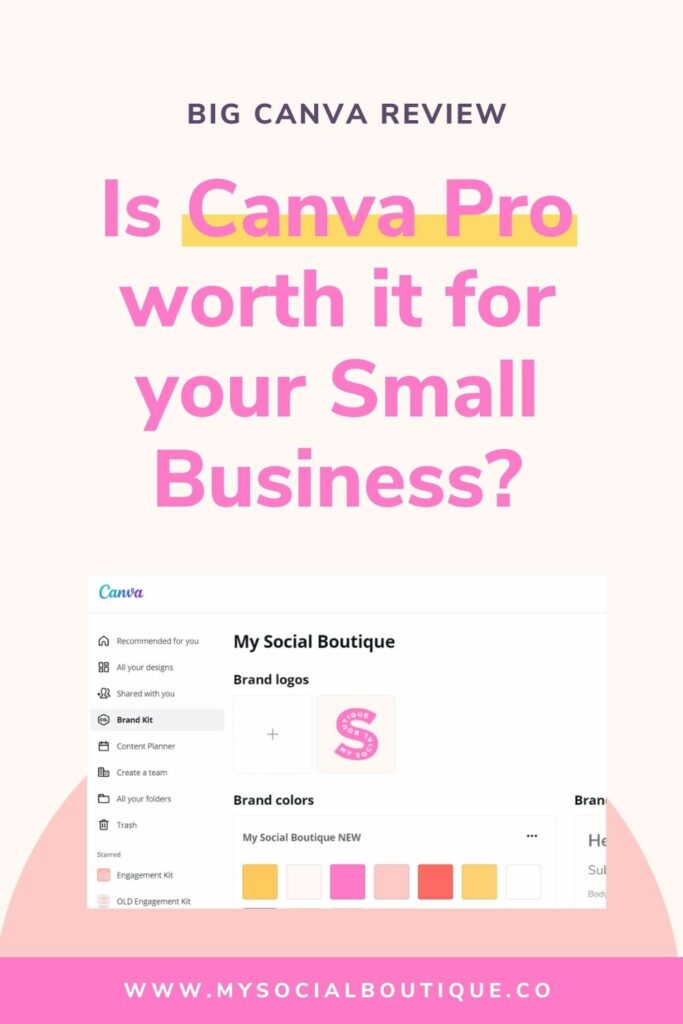 Canva Pro Benefits + Features: What do you get with Canva Pro?
If you are using Canva, I'm sure you've seen the small padlocks and the "PRO" watermark on some of their graphic elements, stock photos or templates.
This is what Canva does to protect their Pro content.
Giving you access to their whole library of 100 Million (!) assets is one of the key benefits of Canva Pro.
But apart from that, there is more to discover when we look at the Canva Pro feature list:
Canva Pro Features: What does it include?
Here is a list of Canva Pro's official premium features:
Access to 100 Million Design Assets, Stock Photos and Videos
Access to 610.000 Premium Design Templates
Add up to 100 Brand Kits + Upload your own Fonts
Access to Premium Fonts
Background Remover Feature
Magic Resize Feature
Save and Share Designs as Templates
100 GB Cloud Storage
Schedule your Designs to Instagram, Twitter, Facebook, Pinterest, Linkedin, Slack and Tumblr
Invite up to 5 Team Members for free
What are the benefits of Canva Pro?
Let's break this down.
I'm going over the most important advantages and features for small businesses, coaches and personal brands here.
If you want a more in-depth look into all features, check Canva Pro's landing page.
Brand Kit
Canva's Brand Kit feature is unique to the Pro plan.
For me not having the Brand Kit is one of the main drawbacks of Canva's free version. With the Brand Kit you are able to save your brand colors and fonts (uploading custom brand fonts is possible as well) and use them right from the design editor.
No more copy-pasting hex codes!
You need this feature if: You're working with an external brand designer or have a social media manager or designer on your team. Or if you are working with Canva templates frequently and want to have your colors and fonts at reach when adapting templates to your brand.
Stock Photos, Videos + Graphic Elements
Did someone say 100 Million photos, videos and elements?!
Okay, odds are low that you'll ever need all of them – but it shows that with Canva Pro you can choose from so many stock images, elements and stock videos that there is something for every niche.
On top, you get access to hundreds of premium Canva fonts not everybody is using.
You need this feature if: You want access to premium stock photos, videos, graphic elements and fonts and think that the free options don't make your brand stand out.
Related Article: Discover the 200+ Best Canva Keywords for Aesthetic Design Elements
Premium Templates
Did you know that 610.000 designer templates are included with Canva Pro?
If you are currently on the free version, you will have access to some of their free templates. But with Pro you get the full range and can choose from templates not everybody is using.
You need this feature if: You don't want to create your designs from scratch but rather choose from Canva's premade templates to speed up the process.
Background Remover
If I had to choose my favorite Canva Pro feature, it would be the background remover!
It's one of those 'You didn't know you need it until you do' things.
You need this feature if: You are a personal brand (highly recommended for cut-outs of yourself!)
Magic Resize
Canva's magic resize feature allows you to change the dimensions of your designs easily.
When you upgrade to Pro, you can resize and copy your designs with one click.
You need this feature if: Your content lives on multiple platforms and you quickly want to repurpose your graphics, e.g. from blog to Instagram posts to Pinterest idea pins.
Animation
You can now also animate your designs with the free version, but Canva Pro adds some extra animations to the mix.
You need this feature if: You want to create animated designs that stand out, for example for Instagram Stories, Reels or for TikTok.
Content Planner + Social Media Scheduler
A relatively new feature, but a must if your business is on social media.
Canva can now schedule your designs directly to your favorite platforms like Instagram, Pinterest and Facebook. This feature is only available in Canva Pro and a real timesaver.
You need this feature if: You're creating your social media graphics in Canva and don't want to use yet another tool for planning and scheduling your content.
Use as Template
If you want to share your designs, you have multiple options: Watch, Edit and Use as Template.
While the first two are also available in Canva free, only the pro version allows you to save your designs as a template for other to re-use.
This way the original design will stay untouched and everybody can create their own unique copy of your designs.
You need this feature if: You are a social media manager or a graphic designer and want to save your designs as a template for your clients. This feature in Canva Pro is also a must if you want to sell your Canva templates.
What is the difference between Canva Free vs Canva Pro?
I'm not the biggest fan of feature lists as they tend to overwhelm you with all the possibilities you have.
Sure, 100 Million premium stock photos and elements sounds amazing, but who will ever use all of them?
For this review, I actually logged into the free version of Canva and our normal Pro account and designed two Instagram graphics in each one.
Here are the differences I noticed between free and paid version when using Canva:
| | | |
| --- | --- | --- |
| | Canva Free | Canva Pro |
| Template | Use a free Template or a template you have purchased elsewhere | Use one of Canva Pro's 650.000 premium templates |
| Branding | Need to use a free font and copy and paste hex codes to make the template look like our branding | Apply your brand colors and custom fonts to the template with one click |
| Stock Photos | Search through free photos to find a matching background or open an extra site to browse more photos | Search through all photos available on Canva and find a matching background |
| Personalization | Go to remove.bg to cut out my photo and re-upload it to Canva | Use the background remover tool right from within Canva and add a nice border with the shadow feature |
| Download + Schedule | Download and upload to separate scheduler tool | Schedule to Instagram Business right out of Canva |
The differences of designing an Instagram post with Canva free vs Canva Pro
Canva Pro Prices: How much is Canva Pro?
Going through the feature list and the differences it makes when designing in the free version vs pro, you might be wondering how much it costs to upgrade to Canva Pro.
Actually, it's pretty affordable!
Canva's pricing options are transparent and very fair for small businesses.
If you do a lot of design work yourself, such as creating social media graphics or workbooks for your courses and freebies, Canva Pro can be a smart investment.
Canva Pro Pricing: Monthly Option
The monthly fee for Canva Pro is $12.99 per month.
Canva Pro Price: Yearly Subscription
If you want to save money on your Canva Pro subscription, you can join with their yearly plan and pay for a year upfront.
The price for 1 year of Canva Pro is $119.99, which breaks down to just $9.99 per month.
➡️ Click here to sign up for Canva Pro and choose the monthly or yearly plan.
How much is Canva Pro in other countries?
That's the USD prices, but do you want to know how much you need to pay for Canva Pro if you are outside the US?
Australia: $12.99 (AUD) paid monthly / $119.99 (AUD) paid yearly
Canada: $12.99 (CAD) paid monthly / $119.99 (CAD) paid yearly
Europe / EU: 11.99€ paid monthly / 109.99€ paid yearly
You can find prices for other countries on Canva Pro's pricing page.
Can you get Canva Pro for free?
The short answer is: Yes.
The long answer: Yes, but this only applies to some groups:
Students can get Canva Pro with the Github Developer Pack.
If you run a non-profit organization, you can claim your Canva Pro account for free for your organization.
Then there is Canva for Education which gives teachers and their students free access to all premium functionality and a virtual classroom feature.
If you don't fall under any of these groups, there isn't a legal way to get Canva's premium features for free.
Special Deal: Try Canva Pro for free for 45 Days
Still, you can make use of Canva's Free Trial which gives you complete access to all Pro features for a month.
While they normally only offer 30 days for free – we've got a special deal for you!
You can try Canva Pro for 45 (!) days through the link below. Hurry up, because this offer won't last 👇
➡️ Click here to grab your free 45 Day Canva Pro Trial
If you then feel you don't need the premium features, you can cancel before your trial ends and actually get Canva Pro for free.
My honest feedback as a business owner: Is Canva Pro worth the upgrade?
YES.
Canva Pro is far superior compared to the free version in most areas we have covered in this review.
If you are a small business owner and you're doing your marketing yourself, then Canva Pro is the right choice for you.
We recently started a survey across our Template Membership clients and found out that more than 90% of them are using Canva Pro.
One of the main reasons for this result might be the price: With just $12.99 per month Canva Pro is a super affordable business tool – compared to many other tools for small businesses out there.
Also, there is the nice 45-day free trial, which comes in handy if you are unsure if it's for you.
How to sign up for Canva Pro
If you want to switch to Canva Pro now, you have two options:
If you have never used the free trial, click here and pay $0 for your first 45 days with our special deal. You can also cancel before the trial is over and don't pay anything.
If you have already exhausted the free trial period, you can sign up here for a regular Canva Pro account.
How to cancel your Canva Pro subscription
And if you ever feel like Canva Pro isn't for you anymore and want to quit, cancelling is super easy as well.
Log into your Canva account and navigate to the account settings in the upper right corner.
Go to Billing & Teams.
The three dots next to Change Plans will lead you to the Cancel Subscription button.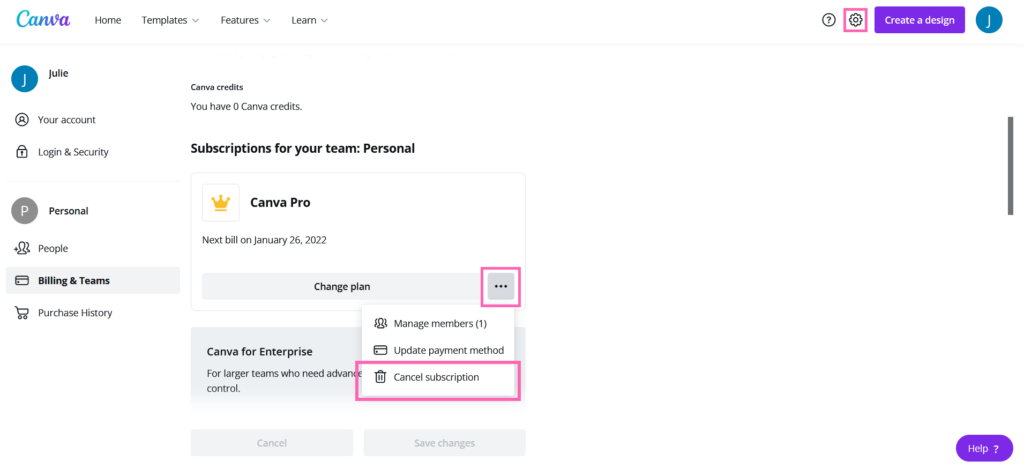 Did you know? You can cancel during your 30 Day free Trial period and don't pay a dime!
The Canva Template Membership for Canvaholics
Do you love working with Canva? But you've seen their free templates (and, let's be real, also the paid ones) all over the place on Instagram?
You want your brand to stand out form all the others in your niche?
→ Discover more than 2,000 unique and engaging Social Media Templates in our affordable Canva Template Membership:
Canva Pro FAQ
Let's have a look at more questions regarding Canva Pro.
Is Canva free to use?
Yes, Canva offers a free version for their web and desktop app as well as the free app for iOS and Android. So you can use it 100% for free with most options. If you want access to premium features and their huge stock photo, video and template library you will need to upgrade to Pro.
➡️ Click here to get a 45 Day Free Trial for Canva Pro.
Can I use Canva Pro on my PC / Mac / iPhone / iPad/ Smartphone? 😅
There is a Canva app for iPad, iPhones and Android smartphones. If you're using Canva on your PC, Windows, Mac or Macbook, you can download the desktop app for free here.
If you don't want to use the apps, you can also access Canva and Canva Pro with every computer directly from the browser.
In fact, you can type canva.new in the address bar of your browser and it will automatically open an fresh Canva design for you.
Does Canva Pro have a page limit?
You can currently not add more than 200 pages to a Canva design. That's the limit Canva imposed on their designs. If you want to create more than 200 pages, you need to start a new design.
Is Canva Pro free for commercial use? Can you use Canva Elements for commercial use?
Yes, you can use all content from Canva Pro for both personal and commercial use. According to Canva's content license terms you can use the content in your designs for "marketing or social media, or even sell merchandise without restrictions".
What you can't do is resell or redistribute the elements from Canva or claim them as your own.
Please note that you also can't copyright any designs created with Canva's free or pro elements, so be careful when using them for logos or any other brand-related graphics you want to protect legally.
Are Canva Pro photos royalty free? What's the license for Canva Pro?
Canva precisely describes the use of its images in their licensing terms.
If you are a Canva Pro subscriber, you are allowed to use all their premium images for commercial purposes. Commercial use includes any marketing you do, such as posting the stock photos as part of your social media graphics.
You can read more about the license terms as well as Canva's terms and conditions here.
*Some of the links used in this article are affiliate links. We earn a small commission if you purchase over one of these links. There are no additional costs for you.