Are you spending too much time in Canva trying to find cute elements, cool stickers or aesthetic backgrounds for your designs? With this big guide, we've got you covered!
We've collected 200+ keywords for backgrounds, shapes, design trends and many different topics, suitable for both the free and Pro plan. We'll show you how keywords and brand codes work, and reveal some secret bonus elements that you can unlock.
Plus, we've included a handy PDF cheatsheet with all the keywords and codes.
So grab your design gloves and let's dive in!
How to search for Elements on Canva with Keywords
Canva is our favorite design tool since it allows users to create professional and aesthetic designs with ease – and with access to millions of custom elements, stickers, icons and photos. To find the right elements matching your design, you use keywords.
Canva's powerful search makes it easy to find the perfect elements to add to your design. They include many different element categories, such as:
Lines & Shapes
Photo Frames
Graphics
Stickers
Photos
Charts & Tables
…and more!
Get Free Elements: Using Canva Elements in Pro vs Free plans
When it comes to using Canva, there are two different plans to choose from: the free plan and the Pro plan. The free plan allows you to access a limited selection of elements, while the Pro plan gives you access to the full library of elements (over 100 million photos, videos and graphics). Additionally, with the Pro plan, you can also access a wider range of design elements, such as animations, vector elements, and more.
The good news: Both free and premium elements come with a license for commercial use.
Special Deal: Try Canva Pro for free for 45 Days
To help you make the most of your design experience, Canva is offering a free trial of the Pro plan. This gives you the opportunity to explore the full range of elements available on Canva.
While they normally only offer 30 days for free – we've got a special deal for you!
You can try Canva Pro for 45 (!) days through the link below. Hurry up, because this offer won't last 👇
➡️ Click here to grab your free 45 Day Canva Pro Trial
If you then feel you don't need the premium features, you can simply cancel before your trial ends.
How to use Canva's search
Now, whether you've choosen to start with a free plan or are already hooked up with everything Canva Pro has to offer, I'm sure you're wondering how to search for aesthetic elements and make the most out of keywords and brand codes.
First navigate to Elements in the left menu bar. Then enter any keyword into the search bar to find the specific elements you're looking for.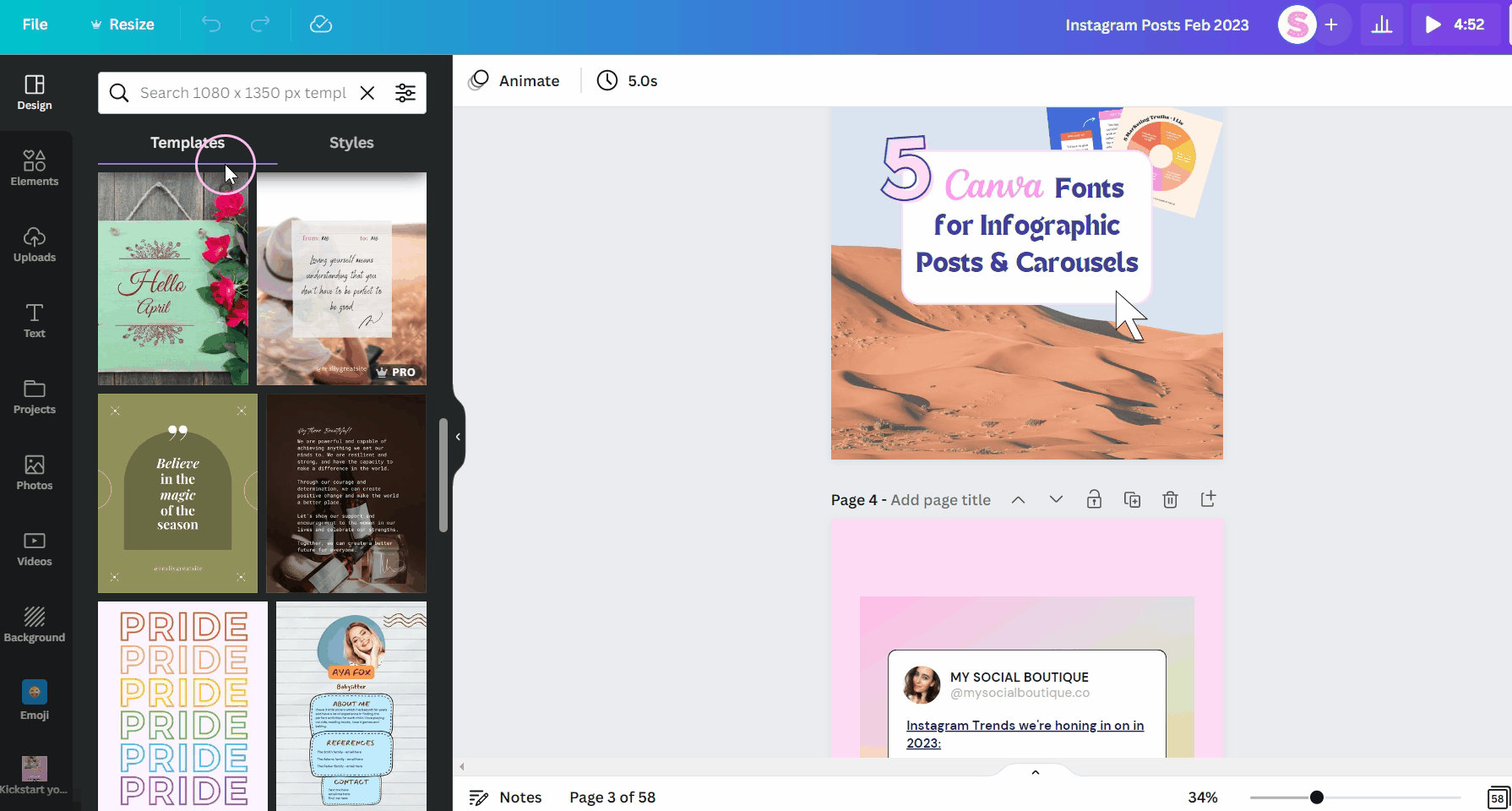 You'll see that some of the elements are marked with a small crown icon. These are Pro elements which you can either purchase individually or unlock with a Canva Pro subscription.
If you aren't a Pro member, you can filter for free elements using the settings icon next to the search bar.
You can choose between different types of elements to narrow down your search: Photos, Stickers, Icons, Graphics, etc.
When you find an element you like and want more of the same style, click the three dots and select "See more like this". This is a handy trick to access Canva's Magic Recommendations feature that will show you more of the elements you're looking for!
But how do you find the right keywords to search for? The following list gives you access to over 200 Canva elements keywords to make your designs look cool. Plus, I've added secret brand codes for my favorite Canva Creator's elements.
➡ Don't forget to scroll until the end to download my Canva Elements Cheatsheet PDF so you can lookup the right keywords whenever you need them!
Canva Keywords List: The Best Keywords to Find Aesthetic Elements, Graphics and Stickers on Canva
Without further ado, here are 200+ keywords you can use to find aesthetic elements on Canva:
Best Canva Keywords for Background Elements
Checkerboard
Background pattern
Stripes
Geometric background
Background + Color (e.g. Background Pink)
Neutral background
Plain Background
Pastel aesthetic background
Colorful background
Best Canva Element Keywords for Seamless Patterns & Textures
Confetti pattern
Seamless
Animal pattern
Geometric pattern
Abstract pattern
Canvaretropatterns
Marblepatterns
Overlay
Textures
Grainy
Grunge
Best Canva Keywords for Abstract Shapes & Elements
Abstractwavylines
Delicate Organic
Freeform
Abstract shape
Abstract line
Vibrant
Canvaabstractshapes
Irregular shapes
Best Canva Keywords for Gradient Elements
Blurred Gradient
Gradient shape
Gradient square
Color + Gradient (e.g. blue gradient)
Gradient line
Fade
Blurry
Circle gradient
Best Canva Keywords for Modern & Bold Elements
Modern Shapes
Moderntrad
Giru aesthetic
Mesh
Vaporwave
Glitch
Checkered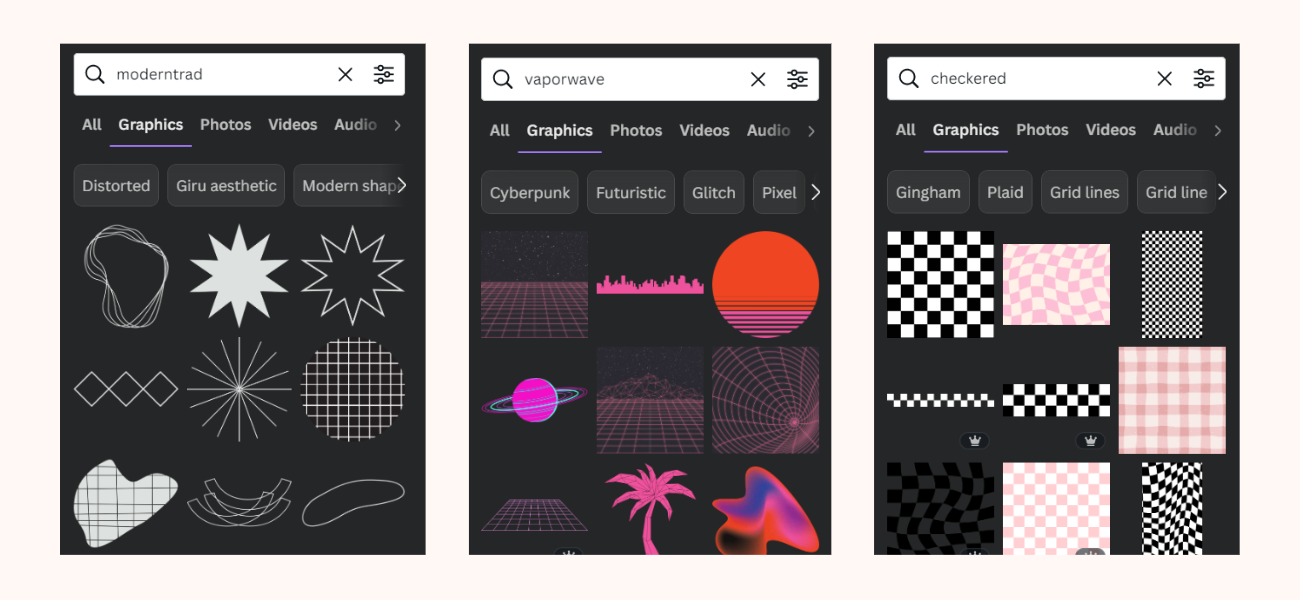 Best Canva Element Keywords for Arrows, Frames & Dividers
Curved arrow
Straight arrow
Chevron
Leaf Frame
Quote Box
Quote Bubble
Dialogue Box
Text frame
Message bubble
Divider
Ornament
Horizontal line
Best Canva Keywords for Boho Elements
Boho Aesthetics
Bohemian
Boho Rainbow
Pampas grass
Greenery
Boho flowers
Boho background
Cosmic Vintage
Rustic
Monoline
Best Canva Keywords for Geometric Elements
Geometric Overlapping Lines
Solid Geometry
Canvageometricdiversity
Geometric shapes
Symbol
Hexagon
Rhombus
Diamond shape
Sparkle
Best Canva Element Keywords for Aesthetic Icons
Aesthetic app icon
Aesthetic icon
Check icon
Instagram icon
Best Canva Keywords for Handdrawn Elements & Doodles
Doodle
Doodle Line
Handdrawn
Scribbles
Wavy line
Letteringbynica
Drawing
Best Canva Keywords for Brush Elements
Newbrushstroke
Swash
Stroke
Swoosh
Smear
Paint Splash
Brush Stroke
Paint Stroke
Brush Line
Canvapaintedshapes
Highlighter
Best Canva Keywords for Retro & Vintage Elements
Old computer aesthetic
Retro ui
Retro computer
80s
90s
Retro
Funky
Disco ball
Vintage background
Vintage frame
Trippy
Nostalgic
Canvaretropatterns
Best Canva Keywords for Flowers & Floral Elements
Botanical
Blurred flowers
Flower border
Dried flowers
Floral circle
Flower drawing
Simple flower
Funky flower
Flower doodle
Peony
Poppy
Flower outline
Flora
Best Canva Keywords for Minimalist Elements
Line Art
Canvaminimalistpatterns
Line drawing
Aesthetic lines
Minimalism
Shapeless
Blob
Best Canva Element Keywords for Cute Illustrations & People
Aesthetic girl
Woman portrait
Illustrations
Watercolor Illustration
Clip art
Plant illustration
Best Canva Element Keywords for Y2K
y2k
kidcore
y2k aesthetic
y2k elements
00s
Best Canva Keywords for 3D Elements
Canvafunevergreen3delements
3D elements
Canva3delements
Glossy 3D
Best Canva Keywords for Collage & Scrapbook Elements
Collage elements
Scrapbook
Ripper paper
Cutout
Canvatexturized
Dried
Canvascrapbook
Collage
Tape
Washi tape
Halftone collage
Collage cutouts
Best Canva Keywords for Animated & Moving Elements
Moving lines
Gif
Sparkling
Animated arrow
Moving arrow
Mouse click
Sticker animated
Encircle
Swipe up
Best Canva Element Keywords for 2023 Design Ideas + Trends
Neomorphism
Holographic
Psychedelic
Plastic Texture
Distorted
Cyberpunk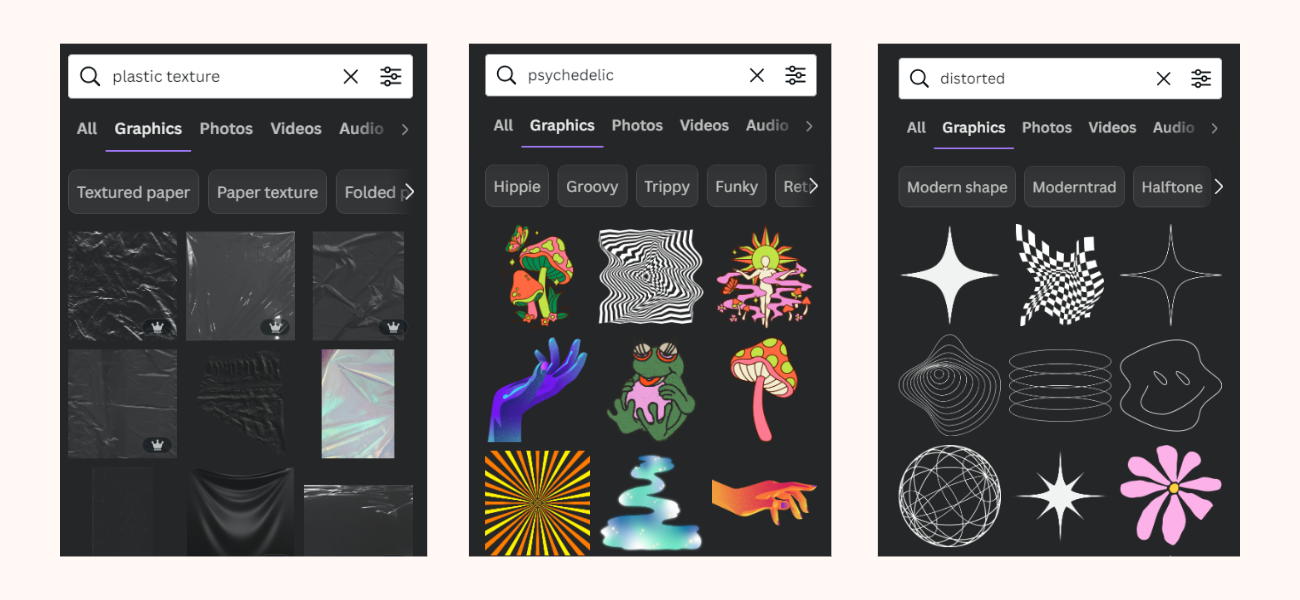 Best Canva Element Keywords for Letters & Quotes
Typography
Nostalgiatype
Neon words
Collage letters
Hand lettering
Best Canva Element Keywords for Social Media & Business
Daily Planner
Mockup
Goal
Reminder
Social media button
Phone frame
Product background
Computer window
Best Canva Element Keywords for Equality & Human Rights
Unity
Diversity
Gender Equality
Feminism
Women Empowerment
Pride Flag
Womens Rights
Equality
Strong woman
LGBTQ
Queer
Canvapride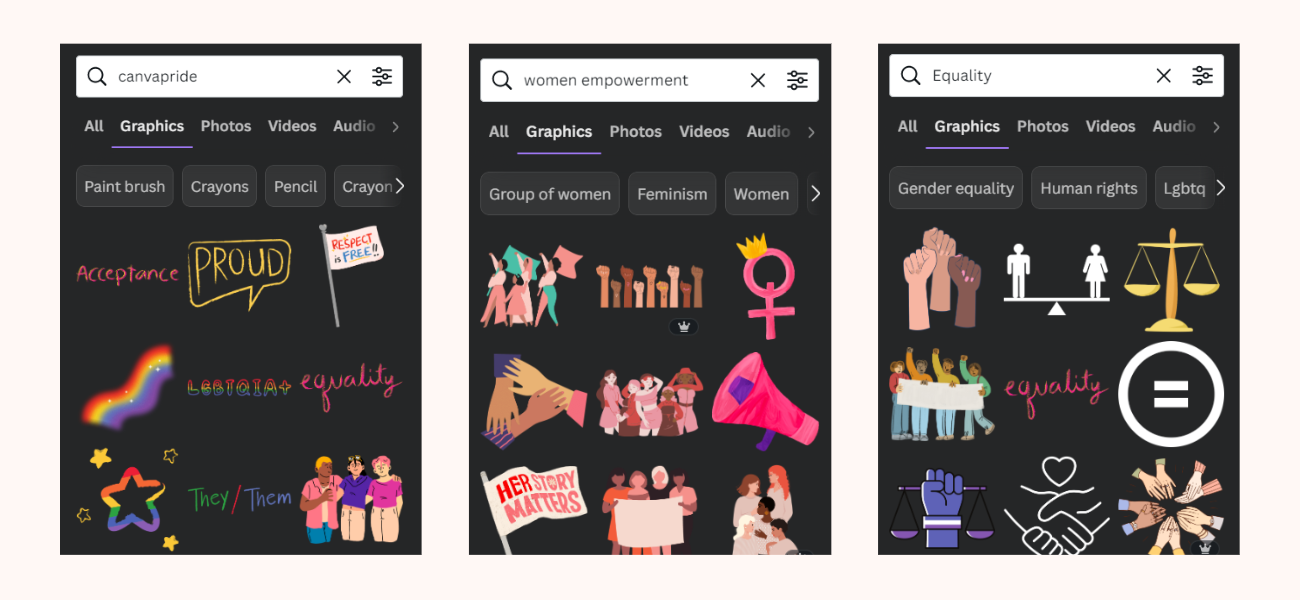 Best Canva Element Keywords for Selfcare & Mindfulness
Me time
Selflove
Self care
Love yourself
Inspirational quotes
Affirmations
Mindfulness
Calm
Mental health awareness
Meditation
Be kind
Secret Bonus: Unlock Hidden Canva Elements with Brand Codes and Canva Creators
Searching for elements by keyword is a powerful Canva feature, but you can take your graphics up a notch by using secret elements by Canva Creators!
These are elements that are difficult to find over the normal search, but are hidden in the creator's portfolio. You can find them by typing "@creatorname" in the elements search bar.
Previously, you would need the exact brand code of the creator, but now you can search for their name directly, which makes things a lot easier!
Another option to find a creator's elements is by looking at similar elements. When you find an element you like, click on the three dots and you'll see the name of the creator. Click on it to search through this particular creator's portfolio and find similar elements.
Best Canva Creator Element Keywords and Brand Codes
The following list gives you an overview of our favorite Canva Creators:
@trendify
@angelainthefields
Angela is the queen of funky retro elements! If you're searching for trendy, bold and colorful graphics, stickers and elements, look no further.
@sketchify
Sketchify is my go-to for bold icons, cutouts and background graphics. But also if you're searching elements for a specific topic, you might find something in their porfolio, since they feature thousands of elements for all kinds of niches and topics.
@marsaladigital
@designsdamichelle
Michelle's portfolio offers a great selection of black and white, line graphics and elements such as checkerboard designs and frames.
Best Canva Elements Collections
Another secret way not many people know to find hidden elements is using Canva's done-for-you elements collections.
You find them by navigating to the Elements tab and then scrolling all the way down.
Elements collections to definitely try out are:
Simple Multicolored Layering Lines
Marker Textures and Swashes
Lined Geometric Friendship Badges & Stickers
Etheral Grainy Plants
Abstract Minimalist Lined Elements
Tip: Find all elements from these collections by entering the name in the Elements search!
Free Download: Canva Element Keywords Cheatsheet PDF
Stop the endless search for aethetic elements to match your designs in Canva. Instead, grab this free cheatsheet we have created for you, including all keywords from this blog post, plus brand codes and creator names.
Download the free Canva Keywords PDF now 👇
FAQ
Do you have more questions about Canva elements and keywords? Maybe your answer is in our frequently asked questions (otherwise, just leave a comment).
Are Canva elements copyright free?
No, they aren't. The copyright either belongs to Canva itself or the creator who made this elements. This doesn't mean that you can't use elements for commercial use (see below), but it means that you can't claim the elements you're using as your own.
My elements are not loading / not showing up. What can I do?
If your elements search is not working, you have two options: First one is to close Canva and open it again. Then search again and see if it's working. Otherwise, try different keywords and see if it's a keyword-related problem. If the problem persists, contact the Canva support.
Are Canva (Pro) elements suitable for commercial use?
Yes. According to Canva's license you can use any free and pro element for commercial use.
Can you use Canva elements to sell / for print on demand?
You can use elements you find on Canva for merchandise, templates or client designs, as long as you use them to create a new and original design. You can't sell the elements as they are.
Can I use Canva elements in my logo?
Using Canva elements for your logo is allowed (also for a commercial logo), but there's one caveat: You don't own the copyright to these elements, so you can't copyright the logo you are creating with them. Keep this in mind, since logos are often copyrighted for the brand that's using them.
Can you sell Canva elements on Etsy?
No, you can't. All elements on Canva are copyrighted, which means you can't resell them – on Etsy or anywehre else.